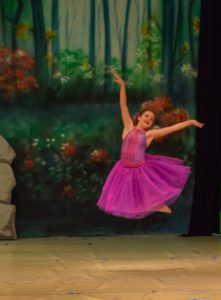 Creative Outlet Dancers will have 2 performance opportunities this Dance year. Besides our annual Spring Recital in May (see below), we will have a special "Christmas Together" dance performance on Saturday, December 8th, 2018 at the Halstead Amphitheater on the Fairhope campus of Coastal Community College. Dancers will wear festive Christmas shirts and show their talents to family and friends in a lovely outdoor setting.
Our 2019 recital performances will take place on Saturday, May 4th, 2019 for Level 1 dancers and older, and on Sunday, May 5th, 2019 for our pre-school through 1st Grade classes.
This split schedule provides our students with the experience of performing on a real stage with a live audience. The small admission fee helps with costumes and production costs for our short and sweet performance.
What are the fees for recitals and performance costumes?
Costumes are ordered for students to perform in the annual Spring Recital. All costumes cost between $65 and $85 per class and will be due by Friday, December 1st, 2018.
We understand that this deadline hits right before the holidays. However, we are required to order costumes in December to ensure delivery before our recital dates.
If you would like to start a payment plan to cover this fee before December, please speak to the front office assistant. This fee is non-refundable after January 11th.
There is no tuition charge in May, but there will be a $15.00 Recital Rehearsal Fee due on April 1st, 2019