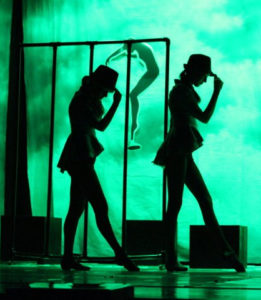 This form of dance explores the dynamics of style inspired by jazz and popular music.  It teaches correct body alignment and stretch and flex of muscles and creates an understanding of movement and style through progressive patterns of motion.
Please note that classes meeting twice weekly, for one and a half hours, will count as three class hours per week for tuition purposes.
Dress Code:
Jazz students may wear leotards, approved fitted top, tights, knitted shorts, unitards, or jazz pants. Thighs must be covered. Jazz dance students wear jazz shoes, Grecian sandals or foot undeez.
Schedule:
Jazzy Hippity Hop
4-6 Year Olds
Thursday
3:45 PM
Jazz  1
2nd & 3rd Grade
Wednesday
4:45 PM
Jazz  2
4th & 6th
Grade
Tuesday
3:45 PM
Jazz  3
6th – 9th
Grade
Wednesday
3:45 PM
*Jazz 4 (AP)
9th Grade and up
Tuesday
6:15 -7:30 PM
Ballet/ Jazz combo class 2nd-4th grade Thursday 5:45 – 7:00
* Ballet is required for enrollment in these classes.
Note that Jazz 4 (ap) meets for 1 hour and 15 minutes . Tuition will be adjusted accordingly